Uranyl nitrate hexahydrate
Agent Name
Uranyl nitrate hexahydrate
Major Category
Physical/Radiation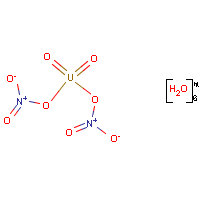 Synonyms
Dinitratodioxouranium hexahydrate; Uranium, dinitratodioxo-, hexahydrate; Uranyl dinitrate hexahydrate; Uranylnitrate hexahydrate; UN2980; [ChemIDplus]
Category
Radioactive Compounds
Description
"Acidic solution in water of uranyl nitrate, a radioactive yellow crystalline solid. Mildly chemically toxic. Contains nitric acid. . . . Minimal radiation hazard during transportation. No protective shielding is required." [CAMEO]
Comments
"Produces toxic oxides of nitrogen when involved in fires." [CAMEO] See "Uranyl nitrate." See "Uranium" and linked occupational diseases.
Uranium in urine = 200 ug/L at end of shift; [ACGIH]
0.05 mg/m3, as U (sol), 0.25 mg/m3, as U (insol)
Explanatory Notes
mp = 60.2 degrees C; bp = decomposes at 100 degrees C; Soluble in ethanol; [ATSDR ToxProfiles]
Other Information
No other related information on this agent was found.