Agent Name
Thorium tetrafluoride
Major Category
Physical/Radiation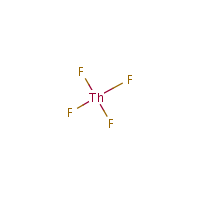 Synonyms
Thorium fluoride (ThF4), (T-4)-; [ChemIDplus] UN2910
Category
Radioactive Compounds
Description
Off-white powder; [Alfa Aesar MSDS]
Comments
Causes burns; Harmful by ingestion, inhalation, and skin absorption; [Alfa Aesar MSDS] See "Thorium." See "Radiation, ionizing." See "FLUORIDES."
Fluorides in urine = 2 mg/L prior to shift or 3 mg/L at end of shift; (Repeated measurements recommended.)
1 mg/m3, inhalable fraction, as F
Explanatory Notes
The Guide in the Emergency Response Guidebook is for "Radioactive material, excepted package, limited quantity of material."
Other Information
No other related information on this agent was found.