Tetrakis(acetylacetonato)thorium
Agent Name
Tetrakis(acetylacetonato)thorium
Major Category
Physical/Radiation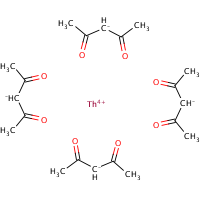 Synonyms
Tetrakis(2,4-pentanedionato)thorium; Tetrakis(acetylacetonato) thorium; Tetrakis(acetylacetonato)thorium(IV); Tetrakis(acetylacetone)thorium; Thorium acetylacetonate; Thorium tetrakis(acetylacetonate); Thorium, tetrakis(2,4-pentanedionato-O,O')-; Tetrakis(pentane-2,4-dionato)thorium; Thorium, tetrakis(2,4-pentanedionato)- (8CI); Thorium, tetrakis(2,4-pentanedionato-kappaO,kappaO')-, (SA-8-11''11''1'1'''1'1''')-; Thorium, tetrakis(2,4-pentanedionato-kappaO2,kappaO4)-, (SA-8-11''11''1'1'''1'1''')-; Thorium, tetrakis(2,4-pentanedionato-O,O')-, (SA-8-11''11''1'1'''1'1''')- (9CI); [ChemIDplus] UN2910
Category
Radioactive Compounds
Description
Crystals; [IBI Labs MSDS]
Comments
A mild skin and eye irritant; Inhalation causes nose, mucous membrane, and respiratory tract irritation; Possible carcinogen; Toxic by ingestion and inhalation; Emits radioactive alpha particles; [IBI Labs MSDS] See "Thorium."
Explanatory Notes
The Guide in the Emergency Response Guidebook is for "Radioactive material, excepted package, limited quantity of material."
Other Information
No other related information on this agent was found.