Agent Name
Uranyl acetate dihydrate
Major Category
Physical/Radiation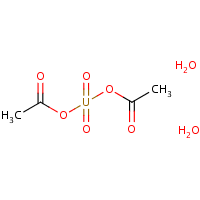 Synonyms
Bis(aceto)dioxouranium dihydrate; Bis(aceto-O)dioxouranium dihydrate; Uranium, bis(acetato)dioxo-, dihydrate; Uranium, bis(acetato-O)dioxo-, dihydrate, (T-4)-; [ChemIDplus] UN2910
Category
Radioactive Compounds
Description
Yellow solid with a mild acetic odor; Partially and incompletely soluble in water; [Merck Index] Yellow crystalline solid; [Sigma-Aldrich MSDS]
Sources/Uses
Used as a reagent for sodium precipitation, in dry copying inks, and as activator in bacterial oxidation processes; [Merck Index]
Comments
Causes tremors in oral lethal-dose studies of rats; Causes changes in erythrocyte count, changes in motor activity, paternal reproductive effects (testes, epididymis, and sperm duct and male fertility index), and degenerative changes to brain in repeated-dose oral studies of rats; [RTECS] Contains a radioactive isotope that may cause cancer and genetic mutations; Highly toxic by ingestion and inhalation; May cause conjunctivitis and blood disorders; Prolonged or repeated exposure may cause organ injury; [Sigma-Aldrich MSDS] See "Uranyl acetate." See "Uranium" and linked occupational diseases.
0.05 mg/m3, as U (sol), 0.25 mg/m3, as U (insol)
Explanatory Notes
The Guide in the Emergency Response Guidebook is for "Radioactive material, excepted package, limited quantity of material."
Other Information
No other related information on this agent was found.