Major Category
Other Uses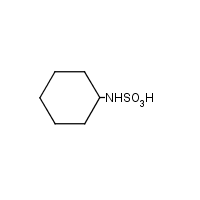 Synonyms
Cyclamate; Cyclamsaeure; Cyclohexanesulfamic acid; Cyclohexanesulphamic acid; Cyclohexylamidosulfuric acid; Cyclohexylamidosulphuric acid; Cyclohexylaminesulfonic acid; Cyclohexylaminesulphonic acid; Cyclohexylsulfamic acid; Cyclohexylsulphamic acid; Hexamic acid; N-(Cyclohexyl)aminosulfonsaeure; N-Cyclohexylsulfamic acid; N-Cyclohexylsulfamsaeure; N-Cyclohexylsulphamic acid; Polycat 200; Sucaryl; Sucaryl acid; Sulfamic acid, cyclohexyl-; Sulfuric acid monoamide, N-cyclohexyl-; [ChemIDplus]
Description
White odorless solid; [Hawley] Fine white crystals; [MSDSonline]
Sources/Uses
Used as intermediate for its salts (non-caloric sweeteners); Used formerly as non-nutritive sweetener; [HSDB] Used as acidulant; [Hawley]
Comments
In lethal dose studies, mice have seizures; Oral LD50 (mouse) = 680 mg/kg; Oral LD50 (rat) = 12,000 mg/kg; [ChemIDplus] No toxic effects found in rats fed high doses for entire life; [HSDB] An irritant; May cause skin sensitization; Effects in lethal-dose animal studies include convulsions and injury to liver and kidneys; [MSDSonline] See "Potassium cyclamate." See "Sodium cyclamate."
Hepatoxic (a) from occupational exposure (secondary effect) or (b) in animal studies or in humans after ingestion
Other Information
No other related information on this agent was found.