Major Category
Other Classes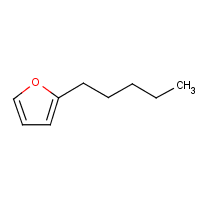 Synonyms
2-Amylfuran; 2-Pentylfuran (natural); 2-n-Pentylfuran; Furan, 2-pentyl-; [ChemIDplus] 2-(n-Pentyl)furan; [Alfa Aesar MSDS] UN1993
Description
Colorless liquid; [Alfa Aesar MSDS]
Sources/Uses
Used as flavoring agent or adjuvant; [FDA]
Comments
No significant adverse effects observed in 13-week oral study of rats (average daily intake approximately 25 mg/kg); Furan-substituted aliphatic hydrocarbons have not been evaluated for safe use as flavoring agents due to "unresolved toxicological concerns", mainly being the carcinogenicity of furan in animal experiments; [JECFA] May cause irritation; Harmful by ingestion; [Alfa Aesar MSDS] See "2-Propylfuran."
Explanatory Notes
The Guide in the Emergency Response Guidebook is for "Flammable liquid, n.o.s."
Other Information
No other related information on this agent was found.