Agent Name
4-Fluorophenol
Major Category
Other Classes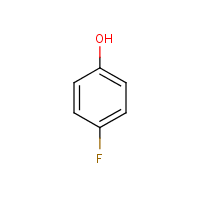 Synonyms
Phenol, 4-fluoro-; Phenol, p-fluoro-; [ChemIDplus] UN2923
Description
White crystalline solid with an odor like phenol; [Alfa Aesar MSDS]
Comments
Intraperitoneal LD50 (mouse) = 312 mg/kg; [RTECS] Causes burns; Inhalation may cause corrosive injuries to upper respiratory tract and lungs; Harmful by ingestion and skin absorption; [Alfa Aesar MSDS] See "Phenol." See "p-Iodoophenol."
Explanatory Notes
The Guide in the Emergency Response Guidebook is for "Corrosive solid, toxic, n.o.s."
Other Information
No other related information on this agent was found.