Formula
Al.3/2Be.3H2-O3-Si
Major Category
Mineral Dusts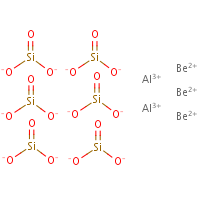 Synonyms
Beryl ore; Beryllium aluminium silicate; Beryllium aluminosilicate; Beryllium aluminum silicate; Natural beryl; [ChemIDplus] UN1566
Category
Other Mineral Dusts
Description
Colorless, white, yellow, green, or blue solid; [HSDB] White powder; Insoluble in water; [Gelest MSDS]
Sources/Uses
The most abundant mineral with high concentrations of beryllium oxide; Used as a source of beryllium; [HSDB] Of the more than 50 beryllium-containing minerals, only beryl and bertrandite have economic significance. [Reference #1]
Comments
Beryllium is linked to lung cancer from studies of workers with beryllium disease and in a cohort of seven beryllium-processing plants. Higher risks occurred in workers with the highest exposures (hired before 1950). [Reference #1] May cause irritation; [Gelest MSDS] See "Beryllium" and linked occupational diseases.
5E-05 mg/m3, as Be, Inhalable fraction
0.002 mg/m3, as Be, Ceiling(OSHA) = 0.005 mg/m3, as Be (0.025 mg/m3,as Be,for 30 min.peak per 8-hr shift)
Explanatory Notes
IARC and ACGIH carcinogen classifications are for beryllium and compounds;The Guide in the Emergency Response Guidebook is for "Beryllium compound, n.o.s."
Diseases
Occupational diseases associated with exposure to this agent:
Processes
Industrial Processes with risk of exposure: