Agent Name
cis-1,3-Pentadiene
Major Category
Plastics & Rubber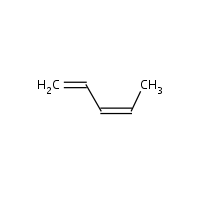 Synonyms
(Z)-Penta-1,3-diene; 1,3-Pentadiene, (3Z)-; [ChemIDplus] cis-Piperylene; [Sigma-Aldrich MSDS] UN3295
Description
Clear light yellow liquid; [Sigma-Aldrich MSDS]
Comments
Causes somnolence, ataxia, and dyspnea in inhalation lethal-concentration studies of mice; [RTECS] May cause irritation; An aspiration hazard by ingestion (may cause lung damage); [Sigma-Aldrich MSDS] See "1,3-Pentadiene."
LC50 (rat) = 39,650 mg/m3/2hr
Explanatory Notes
The Guide in the Emergency Response Guidebook is for "Hydrocarbons, liquid, n.o.s."
Other Information
No other related information on this agent was found.