Cobalt(II) nitrate hexahydrate
Agent Name
Cobalt(II) nitrate hexahydrate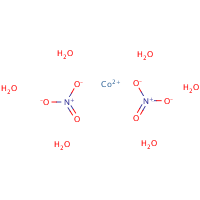 Synonyms
Cobalt dinitrate hexahydrate; Cobalt nitrate hexahydrate; Cobalt(2+) nitrate hexahydrate; Cobaltous nitrate hexahydrate; Nitric acid, cobalt(2+) salt, hexahydrate; [ChemIDplus] UN1477
Category
Metals, Inorganic Compounds
Description
Red deliquescent solid; [Merck Index] Red crystalline powder; Odorless; [Alfa Aesar MSDS]
Sources/Uses
Used to make cobalt pigments, invisible inks, catalysts, and vitamin B12 supplements, and for decorating stoneware and porcelain; [Merck Index]
Comments
Causes somnolence, diarrhea, and weight loss in oral lethal-dose studies of rats; [RTECS] A fire hazard on contact with combustible materials; A skin, eye, and respiratory tract irritant; May cause skin sensitization and asthma; May have effects on the heart, thyroid, and bone marrow (cardiomyopathy, goiter, and polycythemia); Possibly toxic to reproduction and teratogenic, based on animal studies; [ICSC] An oxidizing agent that may intensify fire; An irritant; May cause skin and respiratory sensitization; [Alfa Aesar MSDS] See "Cobalt." See "NITRATES and NITRITES."
Cobalt in urine = 15 ug/L; sample at end of shift at end of workweek;
Explanatory Notes
The Guide in the Emergency Response Guidebook is for "Nitrates, inorganic, n.o.s."
Diseases
Occupational diseases associated with exposure to this agent:
Processes
Industrial Processes with risk of exposure:
Activities
Activities with risk of exposure: