Agent Name
2-Ethoxyethyl acetate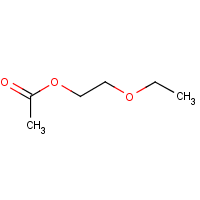 Synonyms
Ethylene glycol monoethyl ether acetate; 1-Acetoxy-2-ethoxyethane; 2-Aethoxy-aethylacetat [German]; 2-Ethoxy-ethylacetaat [Dutch]; 2-Ethoxyethanol acetate; 2-Ethoxyethanol, ester with acetic acid; 2-Ethoxyethyl acetate; 2-Ethoxyethylacetate; 2-Ethoxyethyle, acetate de [French]; 2-Ethoxyethylester kyseliny octove [Czech]; 2-Etossietil-acetato [Italian]; Acetate d'ethylglycol [French]; Acetate de cellosolve [French]; Acetate de l'ether monoethylique de l'ethylene-glycol; [French]; Acetato di cellosolve [Italian]; Acetic acid, 2-ethoxyethyl ester; Aethylenglykolaetheracetat [German]; Cellosolve acetate; Celosolvacetat [Czech]; EGEEA; Ektasolve EE acetate solvent; Ethanol, 2-ethoxy-, acetate; Ethoxyethyl acetate; Ethyl cellosolve acetaat [Dutch]; Ethyl cellosolve acetate; Ethylene glycol ethyl ether acetate; Ethylene glycol monoethyl ether acetylated; Ethylene glycol monoethyl ether monoacetate; Ethyleneglycol monoethyl ether acetate; Ethylglycol acetate; Ethylglykolacetat [German]; Glycol ether EE acetate; Glycol monoethyl ether acetate; Octan etoksyetylu [Polish]; Oxitol acetate; Oxytol acetate; Poly-Solv EE acetate; [ChemIDplus] UN1172
Category
Glycol Ethers (E Series)
Description
Colorless liquid with a mild odor; [NIOSH]
Sources/Uses
Used as an industrial solvent; [ACGIH]
Comments
Laboratory animals die after twelve 8-hour exposures of 450 ppm; pathological examination shows kidney damage; [ACGIH] For ethylene glycol ethers, there is limited positive evidence of spontaneous abortions and decreased sperm counts in humans and strong positive evidence of birth defects and testicular damage in animals. [ATSDR Case Studies # 29] See "Glycol ethers."
The Semiconductor Industry Association recommends elimination of this solvent because of potential reproductive effects. [CHS, p. 43]
2-Ethoxyacetic acid in urine = 100 mg/g creatinine; end of shift at end of workweek;
2 ppm, sum of the concentrations of CAS 110-80-5 and its acetate in air
Excerpts from Documentation for IDLHs
Basis for original (SCP) IDLH: Patty [1963] reported that guinea pigs survived a 1­hour exposure to an atmosphere essentially saturated with vapor (estimated to be less than 4,000 ppm) [Lehmann and Flury 1943]. Because the data concerning the concentration is not very specific, the IDLH is based on the concentration of 2­ethoxyethylacetate in saturated air at 20 C (i.e., 2,600 ppm). . . . Human data: None relevant for use in determining the revised IDLH.
Odor Threshold High
0.13 ppm
LC50 (rat) = 12,100 mg/m3/8 hr
Explanatory Notes
Detection odor threshold from AIHA (mean = 0.06 ppm); Flash point = 47 deg C; VP from HSDB; See 2022 "Notice of Intended Changes" for BEI; [ACGIH TLVs and BEIs]
"The half life for elimination was 23.6 hours." [HSDB]
high ambient temp required
Hepatoxic (a) from occupational exposure (secondary effect) or (b) in animal studies or in humans after ingestion
Diseases
Occupational diseases associated with exposure to this agent:
Processes
Industrial Processes with risk of exposure: