Agent Name
Cupric carbonate, basic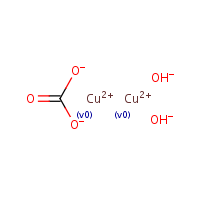 Synonyms
(Carbonato(2-))dihydroxydicopper; (Carbonato)dihydroxydicopper; Basic copper carbonate; Basic copper(II) carbonate; Basic cupric carbonate; Carbonic acid, copper complex; Carbonic acid, copper(2+) salt (1:1), basic; Cheshunt compound; Copper carbonate hydroxide; Copper carbonate, basic; Copper hydroxide carbonate; Copper, (carbonato)dihydroxydi-; Cupric carbonate hydroxide (CuCO3.Cu(OH)2); Cuprum carbonicum; Dicopper dihydroxycarbonate; Dikupfer(II)-carbonat-dihydroxid; Kop karb; Kupfer(II)-carbonat, basisches; Copper(II) carbonate copper(II) hydroxide (1:1); Copper, (mu-(carbonato(2-)-O:O'))dihydroxydi-; Copper, (mu-(carbonato(2-)-kappaO:kappaO'))dihydroxydi-; Copper hydroxy carbonate (Cu2(OH)2CO3); Copper(II) carbonate hydroxide; [ChemIDplus] mu-(Carbonato(2-)-kappaO:kappaO'))dihydroxydicopper; Cupric subcarbonate; Bremen blue; Bremen green; [Merck Index] Malachite; Mineral green; Artificial malachite; Carbonatodihydroxydicopper; Kop; Karb; [EPA OHM/TADS] UN2775
Category
Metals, Inorganic Compounds
Description
Green to blue or dark green solid; [Merck Index] Dark green powder; [Sigma-Aldrich MSDS]
Sources/Uses
Found as the mineral malachite; Used as a seed treatment fungicide, in pyrotechnics, as pigment for paints and varnishes, in animal and poultry feeds, for sweetening petrol sour crude stock, to make other copper salts, and as a veterinary nutritional factor; [Merck Index] Active product registrations in the US for use as a wood preservative, to make antifouling coating products for boats and wood preservatives, as a post-harvest wrap for pears (prevents scald), and aquatic algaecide/herbicide; [NPIRS] Used as a catalyst, mouse repellent, astringent in pomades, and antidote for phosphorus poisoning; Also used in insulating materials, canvas belting, and rubber curing; [EPA OHM/TADS]
Comments
Oral LD50 (rat) of 159 mg/kg also reported; Causes somnolence, diarrhea, and normocytic anemia in oral lethal-dose studies of rats; [RTECS] Acute copper poisoning after ingestion can cause liver injury, methemoglobinemia, and hemolytic anemia. Acute renal failure may result, secondary to massive hemoglobinuria. [Goldfrank, p. 1297-1302] A skin and strong eye irritant; Harmful by ingestion; [Sigma-Aldrich MSDS] See "Copper(II) carbonate."
0.01 mg/m3, respirable fraction (Cu, inorganic cmpnds)
Explanatory Notes
The Guide in the Emergency Response Guidebook is for "Copper based pesticide, solid, toxic."
MetHgb is secondary toxic effect
Hepatoxic (a) from occupational exposure (secondary effect) or (b) in animal studies or in humans after ingestion
Processes
Industrial Processes with risk of exposure:
Activities
Activities with risk of exposure: