Agent Name
Perchloric acid-d
Major Category
Toxic Gases & Vapors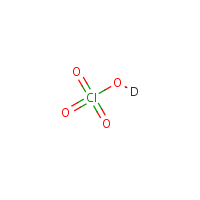 Synonyms
Perchloric (2H)acid; [ChemIDplus] Deuterated perchloric acid; UN1873
Description
68% solution in D2O: Clear colorless liquid; Hygroscopic; [Sigma-Aldrich MSDS]
Comments
May form explosive peroxides; An oxidizer that may cause fire on contact with combustible materials; Causes burns; Inhalation may cause corrosive injuries to upper respiratory tract and lungs; Harmful by ingestion, inhalation, and skin absorption; [Sigma-Aldrich MSDS] See "Perchloric acid." See "Deuterium."
Explanatory Notes
The Guide in the Emergency Response Guidebook is for "Perchloric acid, with more than 50% but not more than 72% acid."
Hepatoxic (a) from occupational exposure (secondary effect) or (b) in animal studies or in humans after ingestion
Other Information
No other related information on this agent was found.