Major Category
Other Classes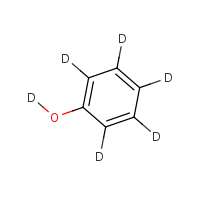 Synonyms
(2H6)Phenol; [ChemIDplus] Carbolic acid-d6; Phenic acid-d6; Phenylic acid-d6; Phenyl hydroxide-d6; Hydroxy benzene-d6; Oxybenzene-d6; [NTP] 4165-62-2: Phen-d5-ol; [ChemIDplus] Phenol-d5; Carbolic acid-d5; Phenic acid-d5; Phenylic acid-d5; Phenyl hydroxide-d5; Hydroxy benzene-d5; Oxybenzene-d5; [NTP] Phenol-2,3,4,5,6-d5; [Sigma-Aldrich MSDS] UN1671
Description
Hygroscopic solid; [Sigma-Aldrich MSDS]
Comments
Highly toxic and corrosive; [NTP] Causes burns; Inhalation may cause corrosive injuries to upper respiratory tract and lungs; Toxic by ingestion, inhalation, and skin absorption; Targets the liver, pancreas, kidney, CNS, and spleen; [Sigma-Aldrich MSDS] Another form of deuterated phenol is CAS# 4165-62-2, with the molecular formula C6-D5-H-O. See "Phenol." See "Deuterium."
Explanatory Notes
The Guide in the Emergency Response Guidebook is for "Phenol, solid."
MetHgb is secondary toxic effect
Hepatoxic (a) from occupational exposure (secondary effect) or (b) in animal studies or in humans after ingestion
Other Information
No other related information on this agent was found.