Agent Name
Germanium tetrafluoride
Major Category
Toxic Gases & Vapors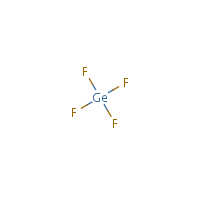 Synonyms
Germane, tetrafluoro-; Tetrafluorogermane; [ChemIDplus] Germanium fluoride; Germanium (IV) fluoride; Germyl tetrafluoride; [Matheson Tri-Gas MSDS] UN3304
Description
Colorless gas with an odor of garlic; [Merck Index] Fumes white in air; Pungent odor of garlic; [Matheson Tri-Gas MSDS]
Sources/Uses
Used with disilane to synthesize silicon-germanium, a semiconductor material; [Wikipedia]
Comments
A strong skin, eye, lung, and mucous membrane irritant; [Merck Index] May react with water producing toxic and corrosive gases; Causes burns; Inhalation may cause corrosive injuries to upper respiratory tract and lungs; Release of compressed gas may cause frostbite; Prolonged or repeated exposure may cause kidney and skeletal system injury; [Matheson Tri-Gas MSDS] See "Silicon tetrafluoride."
Fluorides in urine = 2 mg/L prior to shift or 3 mg/L at end of shift; (Repeated measurements recommended.)
1 mg/m3, inhalable fraction, as F
Explanatory Notes
The Guide in the Emergency Response Guidebook is for "Compressed gas, toxic, corrosive, n.o.s."
Diseases
Occupational diseases associated with exposure to this agent:
Processes
Industrial Processes with risk of exposure: