Agent Name
Tetraethyl lead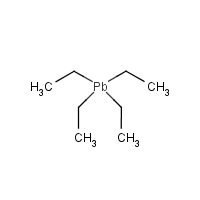 Synonyms
Lead tetraethy;, TEL; Tetraethylplumbane; [NIOSH]
Category
Metals, Organic Compounds
Description
Colorless liquid (unless dyed red, orange, or blue) with a pleasant, sweet odor. [Note: Main usage is in anti-knock additives for gasoline.] [NIOSH] Flammable, but not pyrophoric and does not react with water; [Sullivan, p. 979]
Sources/Uses
Tetraethyl and tetramethyl lead (CAS # 78-00-2 & 75-74-1), also called alkyl lead, are used as anti-knock agents in gasoline. [ATSDR Case Studies # 1]
Comments
The presenting symptoms of acute alkyl lead intoxication are neurologic: anorexia, insomnia, fatigue, weakness, headache, depression, and irritability. [ATSDR Case Studies # 1] Toxic by ingestion, inhalation, or skin absorption. Overexposure may cause disturbed vision, tremors, seizures, and brain damage. Monitor workers with urinary lead measurements. [ACGIH] CNS effects are seen within hours to days (usually 1-5 days or as long as 14 days after exposure; [HSDB] "Lead compounds, organic" are not classifiable as to carcinogenicity to humans. [IARC] See "ORGANOMETALS." See "Lead" and linked occupational diseases.
Organic lead was added to gasoline in the US until January 1996. [ATSDR Case Studies, Lead Toxicity]
Excerpts from Documentation for IDLHs
Human data: It has been stated that 100 mg Pb/m3 for 1 hour may produce illness [Fleming 1963].
LC50 (rat) = 850 mg/m3/1H
Explanatory Notes
VP from HSDB;
high ambient temp required
Hepatoxic (a) from occupational exposure (secondary effect) or (b) in animal studies or in humans after ingestion
Diseases
Occupational diseases associated with exposure to this agent: