Agent Name
m-Fluorotoluene
Major Category
Other Classes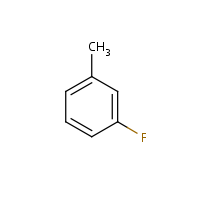 Synonyms
1-Fluoro-3-methylbenzene; 1-Methyl-3-fluorobenzene; 3-Fluorotoluene; Benzene, 1-fluoro-3-methyl-; Toluene, m-fluoro- (8CI); [ChemIDplus] m-Tolyl fluoride; [CAMEO] UN2388
Category
Halogenated Monoaromatics
Description
Colorless liquid; [Merck Index] Aromatic odor; [Alfa Aesar MSDS]
Comments
An irritant; May cause smarting and reddening of skin if spilled and allowed to remain on clothes; Can be absorbed through skin; Harmful by ingestion; [CHRIS] A mild skin and eye irritant; Causes respiratory tract irritation; [Alfa Aesar MSDS] See "m-Chlorotoluene" and "4-Chlorotoluene."
Explanatory Notes
The Guide in the Emergency Response Guidebook is for "Fluorotoluenes." VP from ChemIDplus;
high ambient temp required
Other Information
No other related information on this agent was found.