Agent Name
Antimony pentafluoride
Major Category
Toxic Gases & Vapors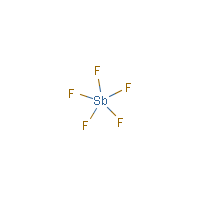 Synonyms
Antimony (V) fluoride; Antimony fluoride; Pentafluoroantimony; [ChemIDplus]
Category
Other Toxic Gases & Vapors
Description
Viscous liquid with a sharp odor; [HSDB]
Sources/Uses
Used as a catalyst and fluorinating agent; [HSDB]
Comments
Hydrofluoric acid formed when F5-Sb reacts with water; Corrosive to eyes, skin, and respiratory tract; Can cause acute pulmonary edema after heavy inhalation exposure; In chronic inhalation studies of animals, pneumonitis as well as liver and cardiac damage are observed. Repeated exposures to fluoride compounds can result in fluorosis. [HSDB] Recent experiments show that "there is essentially very little HF formation; the substance was quite unreactive in water." [CAMEO] See "FLUORIDES." See "Antimony" and linked occupational diseases.
Fluorides in urine = 2 mg/L prior to shift or 3 mg/L at end of shift; (Repeated measurements recommended.)
0.5 mg/m3, as Sb (2.5 mg/m3, as F)
0.5 mg/m3, as Sb (2.5 mg/m3, as F)
1 mg/m3, as F, inhalable fraction
Explanatory Notes
Not TIH in land-based spills, but TiH substance released when spilled in water; [ERG 2016] See occupational exposure limits for Fluoride and Antimony compounds.
Diseases
Occupational diseases associated with exposure to this agent:
Processes
Industrial Processes with risk of exposure: