Agent Name
Silicon tetrafluoride
Major Category
Toxic Gases & Vapors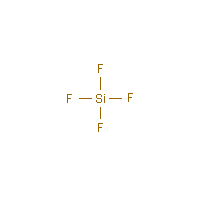 Synonyms
Perfluorosilane; Silane, tetrafluoro-; Silicon fluoride (SiF4); Tetrafluorosilane; UN1859; [ChemIDplus]
Description
Colorless gas with a pungent odor; [HSDB]
Sources/Uses
Used to manufacture silane, silicon for electronics, and fluosilicic acid; Used as a sealant in oil well drilling; [HSDB]
Comments
On contact with water, may hydrolyze to form fluosilicic acid and silicon dioxide. May be corrosive to the skin, eyes, and respiratory tract; Inhalation may cause pulmonary edema; Chronic exposure may cause fluorosis; [CHEMINFO MSDS] See "Fluorosilic acid." See "FLUORIDES."
Fluorides in urine = 2 mg/L prior to shift or 3 mg/L at end of shift; (Repeated measurements recommended.)
1 mg/m3, as F, inhalable fraction
Explanatory Notes
For occupational exposure limits, see "Fluorides."
Diseases
Occupational diseases associated with exposure to this agent:
Processes
Industrial Processes with risk of exposure: