Agent Name
o-Phthalaldehyde
Major Category
Other Classes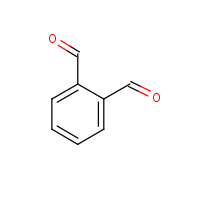 Synonyms
Phtalaldehydes [French]; Phthalaldehyde; Phthalic aldehyde; Phthalic dialdehyde; Phthalyldicarboxaldehyde; o-Phthaldialdehyde; 1,2-Benzenedicarboxaldehyde; [ChemIDplus] Cidex OPA; [Merck Index] OPA; 1,2-Benzenedialdehyde; 1,2-Diformylbenzene; 1,2-Phthalaldehyde; 2-Formylbenzaldehyde; o-Benzenedicarbaldehyde; Benzenedicarboxaldehyde; OP 100S; OP 100SF; o-Phthalic aldehyde; Phthalic dicarboxaldehyde; Phtharal; [NTP] UN2923
Description
Pale yellow or colorless solid; [Merck Index] Yellow powder or lumps; [Alfa Aesar MSDS]
Sources/Uses
Used as a disinfectant and in the fluorometric determination of primary amines and thiols; [Merck Index] Used to sterilize medical and dental equipment, as an enzyme inhibitor, indicator, chemical intermediate, diagnostic agent, tanning agent for leather, in water treatment, pulp and paper manufacturing, oil field water flooding, hair colorings, wood treatment, and antifouling paints; [NTP]
Comments
Similar properties and health effects to glutaraldehyde; [ACGIH] Severe gastrointestinal tract damage and hematological changes observed in 90-day oral study of rats; Delayed skeletal development observed in rats at doses maternally toxic; [NTP] Symptoms reported from occupational exposure to Cidex-OPA (aqueous solution containing 0.56% o-phthalaldehyde) include exacerbation of asthma, anaphylaxis, burns and/or irritation, and dermal hypersensitivity; [NTP] Causes burns; Inhalation may cause corrosive injuries to upper respiratory tract and lungs; May cause skin sensitization; Toxic by ingestion; [Alfa Aesar MSDS] Occupational asthma confirmed in an endoscopy unit worker; [Malo] See "Benzaldehyde." See "2-Methylbenzaldehyde."
0.0001 ppm, vapor fraction
Explanatory Notes
The Guide in the Emergency Response Guidebook is for "Corrosive solid, toxic, n.o.s."
Diseases
Occupational diseases associated with exposure to this agent:
Processes
Industrial Processes with risk of exposure: