Pentafluorobenzyl bromide
Agent Name
Pentafluorobenzyl bromide
Major Category
Other Classes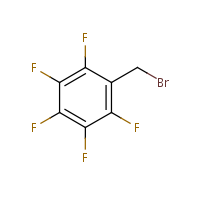 Synonyms
(Bromomethyl)pentafluorobenzene; 1-Bromomethylpentafluorobenzene; 2,3,4,5,6-Pentafluorobenzyl bromide; alpha-Bromo-2,3,4,5,6-pentafluorotoluene; Benzene, (bromomethyl)pentafluoro-; Toluene, alpha-bromo-2,3,4,5,6-pentafluoro- (8CI); [ChemIDplus] UN3265
Category
Halogenated Monoaromatics
Description
Colorless liquid; mp = 18-20 deg C; [Alfa Aesar MSDS]
Comments
Hydrolyzed by water; Causes burns and lachrymation; Inhalation may cause corrosive injuries to upper respiratory tract and lungs; [Alfa Aesar MSDS] See "Hexafluorobenzene."
Explanatory Notes
The Guide in the Emergency Response Guidebook is for "Corrosive liquid, acidic, organic, n.o.s."
Other Information
No other related information on this agent was found.