Agent Name
4-Propylphenol
Major Category
Other Classes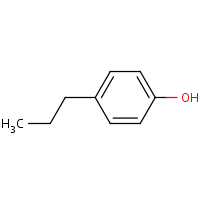 Synonyms
1-Hydroxy-4-n-propylbenzene; 4-n-Propylphenol; Dihydrochavicol; Hydroxypropylbenzene, p-; Phenol, 4-propyl-; Phenol, p-propyl-; p-Propylphenol; [ChemIDplus] 1-(4-Hydroxyphenyl)propane; [JECFA] UN3145
Description
Yellow liquid; mp = 20-22 deg C; [Alfa Aesar MSDS]
Sources/Uses
Used as a flavoring agent; [FDA]
Comments
Causes zonal hepatitis, kidney changes, and normocytic anemia in oral, repeated-dose studies of rats; [RTECS] Safe when used as a flavoring agent in food; [JECFA] Causes burns; Inhalation may cause corrosive injuries to upper respiratory tract and lungs; Toxic by ingestion; [Alfa Aesar MSDS] See "4-Ethylphenol."
Explanatory Notes
The Guide in the Emergency Response Guidebook is for "Alkyl phenols, liquid, n.o.s. (including C2-C12 homologues)."
Hepatoxic (a) from occupational exposure (secondary effect) or (b) in animal studies or in humans after ingestion
Other Information
No other related information on this agent was found.