Agent Name
Phenylacetylene
Alternative Name
Ethynylbenzene
Major Category
Other Classes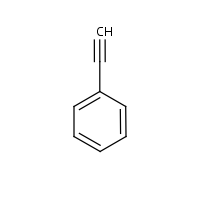 Synonyms
1-Phenylethyne; Acetylene, phenyl-; Ethyne, phenyl-; Ethynylbenzene; Phenylacetylide; Phenylethyne; Benzene, ethynyl-; [ChemIDplus] UN3295
Category
Aromatic Hydrocarbons
Description
Liquid; [Merck Index]
Sources/Uses
"Can polymerize into DENDRIMERS." [ChemIDplus] "Phenylacetylene is an alkyne hydrocarbon containing a phenyl group. It exists as a colorless, viscous liquid. In research, it is sometimes used as an analog for acetylene; being a liquid, it is easier to handle than acetylene gas." [Wikipedia]
Comments
Causes focal lung fibrosis, acute pulmonary edema, and hemorrhage in oral lethal-dose studies of rats (LDLo = 10 mL/kg); [RTECS] A skin and strong eye irritant; An aspiration hazard by ingestion (may cause lung damage); Suspected carcinogen; Targets the liver, kidney, and CNS; [Sigma-Aldrich MSDS] See "Methylacetylene."
Explanatory Notes
The Guide in the Emergency Response Guidebook is for "Hydrocarbons, liquid, n.o.s." VP from ChemIDplus;
Other Information
No other related information on this agent was found.