Agent Name
Phenylcyclohexane
Major Category
Other Classes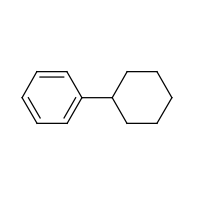 Synonyms
1,1'-Biphenyl, 1,2,3,4,5,6-hexahydro-; 4-Cyclohexylbenzene; Cyclohexane, phenyl-; Cyclohexylbenzene; Santosol 360; Benzene, cyclohexyl-; [ChemIDplus] UN3082
Category
Aromatic Hydrocarbons
Description
Colorless liquid with a mild odor; [Alfa Aesar MSDS]
Sources/Uses
"Pyrolysis product of phencyclidine." [ChemIDplus]
Comments
A severe skin irritant; Causes somnolence and effects on food intake in dermal lethal-dose studies of rabbits; [RTECS] A skin and strong eye irritant; [Alfa Aesar MSDS] See "Biphenyl."
Explanatory Notes
The Guide in the Emergency Response Guidebook is for "Environmentally hazardous substances, liquid, n.o.s." VP from ChemIDplus;
Other Information
No other related information on this agent was found.