Phenylmethylsulfonyl fluoride
Agent Name
Phenylmethylsulfonyl fluoride
Major Category
Other Uses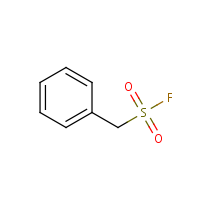 Synonyms
Benzenemethanesulfonyl fluoride; Benzylsulfonyl fluoride; Benzylsulphonyl fluoride; PMSF; Phenylmethanesulfonyl fluoride; alpha-Toluenesulfonyl fluoride; alpha-Toluenesulphonyl fluoride; [ChemIDplus] UN2928
Category
Biochemical Research
Description
Colorless solid; [Merck Index] White crystals; [Sigma-Aldrich MSDS]
Sources/Uses
A serine and cysteine protease inhibitor; Used as a protease inhibitor in research and to prevent proteolytic degradation in protein purification; [Merck Index]
Comments
Causes convulsions and multiple enzyme effects in acute intraperitoneal studies of mice; [RTECS] Causes burns; Inhalation may cause corrosive injuries to upper respiratory tract and lungs; Toxic by ingestion; Targets the nerves, heart, blood, and eyes; [Sigma-Aldrich MSDS] See "Methanesulfonyl fluoride."
Fluorides in urine = 2 mg/L prior to shift or 3 mg/L at end of shift; (Repeated measurements recommended.)
1 mg/m3, inhalable fraction, as F
Explanatory Notes
The Guide in the Emergency Response Guidebook is for "Toxic solid, corrosive, organic, n.o.s."
Other Information
No other related information on this agent was found.