Tetramethyl succinonitrile
Agent Name
Tetramethyl succinonitrile
Major Category
Nitrogen Compounds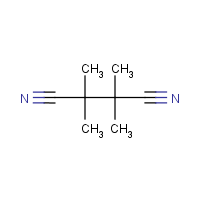 Synonyms
2,2,3,3-Tetramethylbutanedinitrile; CP 75475; TMSN; Tetramethylbutanedinitrile; Tetramethylsuccinic acid dinitrile; Tetramethylsuccinodinitrile; Tetramethylsuccinonitrile; Tetramethylsuccinotrile; Tetramethylsukcinonitril [Czech]; [ChemIDplus]
Description
Colorless, odorless solid; Note: Forms cyanide in the body; [NIOSH]
Sources/Uses
TMSN is a decomposition product formed from the heating of a blowing agent, azo-bisisobutyronitrile, during the production of vinyl foam; [ACGIH]
Comments
Convulsions and coma have been reported in workers manufacturing vinyl foam products. The toxicology is similar to that of other aliphatic nitriles. TLV Basis: convulsions, hypoglycemia; [ACGIH] See "NITRILES."
0.09 ppm, inhalable fraction and vapor
Excerpts from Documentation for IDLHs
Basis for original (SCP) IDLH: The chosen IDLH is based on the statement by ACGIH [1972] that 6 ppm for 30 hours was lethal to rats [Spolyar 1948]. A concentration of 22 ppm is obviously too high to be chosen as the IDLH, because no mice survived a 3.5­hour exposure at this concentration [Hecht and Kimmerle 1956­1957 as quoted by Reinl 1957]. . . . Human data: None relevant for use in determining the revised IDLH.
Explanatory Notes
NIOSH REL = 0.5 ppm;
Other Poison
Chemical Asphyxiant
Diseases
Occupational diseases associated with exposure to this agent: