Potassium hexafluoroaluminate
Agent Name
Potassium hexafluoroaluminate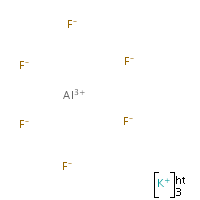 Synonyms
Aluminate(3-), hexafluoro-, potassium (1:3), (OC-6-11)-; Aluminate(3-), hexafluoro-, tripotassium, (OC-6-11)-; Tripotassium hexafluoroaluminate; [ChemIDplus] Potassium aluminum fluoride; Potassium fluoroaluminat; [GFS Chemicals MSDS]
Category
Metals, Inorganic Compounds
Description
White to off-white odorless crystals; Soluble in water; [GFS Chemicals MSDS]
Comments
An irritant; Chronic fluoride exposure may cause damage to teeth and bones; Assumed toxic by all routes of exposure; [GFS Chemicals MSDS] See "Sodium aluminum fluoride."
Fluorides in urine = 2 mg/L prior to shift or 3 mg/L at end of shift; (Repeated measurements recommended.)
1 mg/m3 as F, inhalable fraction
Other Information
No other related information on this agent was found.