Agent Name
Potassium hypochlorite
Major Category
Other Uses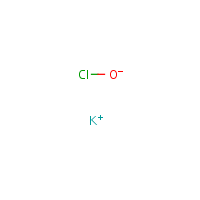 Synonyms
Hypochlorous acid, potassium salt; Potassium chloride oxide; [ChemIDplus] UN1791
Category
Biocides/Disinfectants
Description
Aqueous solution: Clear to light yellow liquid with a pungent irritating odor like bleach; [KA Steel MSDS]
Sources/Uses
Permitted for use as an inert ingredient in non-food pesticide products; [EPA]
Comments
A strong oxidizing agent; [CAMEO] Aqueous solution: Contains 11.5-13% chlorine, 0.3-5% potassium hydroxide, and the balance water; Causes irritation and blistering on skin contact; Eye contact can cause redness, pain, and possibly permanent injury; Severe inhalation exposure may cause pulmonary edema; [KA Steel MSDS] See "Sodium hypochlorite."
Explanatory Notes
The Guide in the Emergency Response Guidebook is for "Hypochlorite solution."
Other Information
No other related information on this agent was found.