Agent Name
Potassium methylate
Alternative Name
Potassium methoxide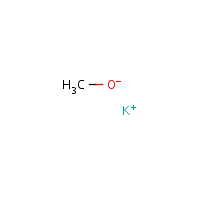 Synonyms
Methanol, potassium salt; Potassium methanolate; [ChemIDplus] Methoxy potassium; Potassium methoxide; [Reference #1] Kaliummethanolat; Kaliummethylat; [Reference #2] UN3206
Description
White to yellow hygroscopic solid; [Reference #1] Commercial products are powders or 32% solutions in methanol; [Reference #2] White powder; [Alfa Aesar MSDS]
Sources/Uses
Used as a chemical intermediate and in biodiesel production; [Reference #2]
Comments
Rapidly and exothermically reacts with tissue water forming potassium hydroxide (responsible for corrosivity) and methanol; Not likely to cause skin sensitization or be carcinogenic; [Reference #2] Reacts violently with water; Self-heating, may catch fire; Causes burns; Inhalation may cause corrosive injuries to upper respiratory tract and lungs; [Alfa Aesar MSDS] See "Methyl alcohol." See "Potassium hydroxide." See "Sodium methylate."
Explanatory Notes
The Guide in the Emergency Response Guidebook is for "Alkali metal alcoholates, self-heating, corrosive, n.o.s."
Other Information
No other related information on this agent was found.