Agent Name
Potassium perrhenate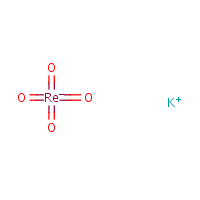 Synonyms
Potassium rhenate (KReO4); Potassium rhenium oxide (KReO4); Rhenate (ReO4(sup 1-)), potassium, (T-4)-; Perrhenic acid (HReO4), potassium salt (8CI); Perrhenic acid, potassium salt; Rhenate (ReO41-), potassium (1:1), (T-4)-; [ChemIDplus] UN1479
Category
Metals, Inorganic Compounds
Description
White odorless crystals; [Alfa Aesar MSDS]
Comments
Causes excitement and tetany in intraperitoneal lethal-dose studies of mice and rats; Causes lowered blood pressure and respiratory depression in intravenous lethal-dose studies of cats; [RTECS] An irritant; An oxidizing agent that may cause fire on contact with combustible materials; [Alfa Aesar MSDS] See "Rhenium."
Explanatory Notes
The Guide in the Emergency Response Guidebook is for "Oxidizing solid, n.o.s."
Other Information
No other related information on this agent was found.