Agent Name
Potassium zinc fluoride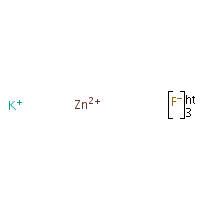 Synonyms
Potassium trifluorozincate; [ChemIDplus] NOCOLOK Zn FLUX; [Solvay Fluorides MSDS] UN3077
Category
Metals, Inorganic Compounds
Description
White odorless powder; [Solvay Fluorides MSDS]
Sources/Uses
Used in welding and soldering agents; [Solvay Fluorides MSDS]
Comments
An irritant; Not a skin sensitizer in guinea pigs; Harmful by ingestion; Chronic exposure may cause fluorosis; [Solvay Fluorides MSDS] See "FLUORIDES." See "Zinc."
Fluorides in urine = 2 mg/L prior to shift or 3 mg/L at end of shift; (Repeated measurements recommended.)
1 mg/m3, inhalable fraction, as F [MAK 0.1 mg/m3 (respirable fraction), 2 mg/m3 (inhalable fraction) for Zn inorg. Compds]
Explanatory Notes
The Guide in the Emergency Response Guidebook is for "Environmentally hazardous substances, solid, n.o.s."