Agent Name
Plutonium hexafluoride
Major Category
Physical/Radiation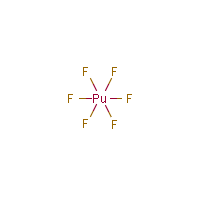 Category
Radioactive Compounds
Description
Reddish-brown solid; [ATSDR ToxProfiles]
Comments
See "Plutonium" and linked occupational diseases.
Fluorides in urine = 2 mg/L prior to shift or 3 mg/L at end of shift; (Repeated measurements recommended.)
1 mg/m3, as F, inhalable fraction
Explanatory Notes
Decomposes in cold water; mp = 50.75 degrees C; bp = 62.3 degrees C; [ATSDR ToxProfiles]
Other Information
No other related information on this agent was found.