Agent Name
Thorium sulfate
Major Category
Physical/Radiation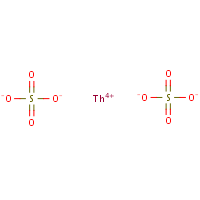 Synonyms
Sulfuric acid, thorium(4+) salt (2:1); Thorium disulphate; [ChemIDplus] UN2910
Category
Radioactive Compounds
Description
White crystalline solid; [Alfa Aesar MSDS]
Comments
Radioactive; An irritant; Harmful by ingestion and inhalation; May have cumulative adverse effects; [Alfa Aesar MSDS] See "Thorium." See "Ionizing radiation."
Explanatory Notes
The Guide in the Emergency Response Guidebook is for "Radioactive material, excepted package, limited quantity of material."
Other Information
No other related information on this agent was found.