Trichloroacryloyl chloride
Agent Name
Trichloroacryloyl chloride
Major Category
Toxic Gases & Vapors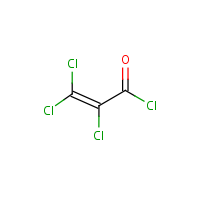 Synonyms
2-Propenoyl chloride, 2,3,3-trichloro-; Acryloyl chloride, trichloro-; 2,3,3-Trichloroacryloyl chloride; Chlorid kyseliny trichlorakrylove [Czech]; TCAT; Trichloracrylyl chloride; Trichloroacrylyl chloride; [ChemIDplus] UN3383
Description
Liquid; [Sigma-Aldrich MSDS]
Comments
A mild skin and eye irritant; Causes somnolence, excitement, and dyspnea in inhalation lethal-concentration studies of rats; [RTECS] Reacts violently with water; May cause irritation and lachrymation; Harmful by ingestion; Highly toxic by inhalation; [Sigma-Aldrich MSDS] See "Fumaryl chloride" and "Acrylyl chloride."
LC50 (rat) = 107 ppm/30min
Explanatory Notes
The Guide in the Emergency Response Guidebook is for "Toxic by inhalation liquid, flammable, n.o.s. (Inhalation Hazard Zone A)"
Diseases
Occupational diseases associated with exposure to this agent: