Phenyltrimethylammonium iodide
Agent Name
Phenyltrimethylammonium iodide
Major Category
Nitrogen Compounds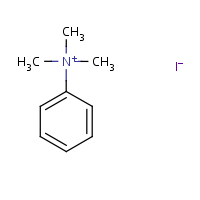 Synonyms
Ammonium, trimethylphenyl-, iodide; Benzenaminium, N,N,N-trimethyl-, iodide; Benzenaminium, N,N,N-trimethyl-, iodide (1:1); Ammonium, phenyltrimethyl-, iodide; N,N,N-Trimethylanilinium iodide; N,N,N-Trimethylbenzenaminium iodide; N,N-Dimethylaniline methiodide; Phenyltrimethylammonium iodide; PHT; Trimethylanilinium iodide; Trimethylanillinium iodide; Trimethylphenylammonium iodide; [ChemIDplus]
Category
Quaternary Amines
Description
White solid; [Merck Index] White powder; [Alfa Aesar MSDS]
Sources/Uses
Used for the detection and determination of cadmium; [Merck Index]
Comments
Causes convulsions in intraperitoneal lethal-dose studies of mice (LD50 = 55 mg/kg); [RTECS] A skin and strong eye irritant; Harmful by ingestion and skin absorption; [Alfa Aesar MSDS] See "Phenyltrimethylammonium bromide" and "Phenyltrimethylammonium chloride." See "Iodine" for the TLV of Iodides.
0.01 ppm, inhalable fraction and vapor (iodides)
Other Information
No other related information on this agent was found.