Alternative Name
Butyl mercaptan
Major Category
Other Classes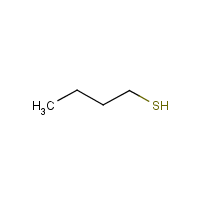 Synonyms
1-Mercaptobutane; Bear skunk; Butanethiol; Butyl mercaptan; Butylthiol; Normal butyl thioalcohol; Thiobutyl alcohol; n-Butanethiol; n-Butyl mercaptan; n-Butyl thioalcohol; n-Butylmercaptan; [ChemIDplus] UN2347
Description
Colorless liquid with a strong, garlic-, cabbage-, or skunk-like odor; [NIOSH]
Sources/Uses
Used as a solvent, an odorant for natural gas, and an intermediate for insecticides and herbicides; [ACGIH]
Comments
In four hour inhalation studies, rats and mice show central nervous system depression. Oral and intraperitoneal doses at near lethal levels injure the liver and kidneys. Workers exposed in an accident to 50-500 ppm for one hour experienced weakness, sweating, headache, and vomiting. One of these workers lost consciousness for 20 minutes. [ACGIH] See "THIOLS."
Excerpts from Documentation for IDLHs
Human data: Accidental exposure for 1 hour to an estimated concentration of 50 to 500 ppm has been reported to cause muscular weakness, malaise, sweating, nausea, vomiting, headache, and confusion [Gobbato and Terribile 1968].
Odor Threshold High
0.001 ppm
LC50 (rat) = 4,020 ppm/4H
Explanatory Notes
Detection odor threshold from AIHA (mean = 0.001 ppm); Flash point = 2 deg C; Vp from HSDB;
may ignite at ambient temp
Hepatoxic (a) from occupational exposure (secondary effect) or (b) in animal studies or in humans after ingestion
Other Poison
Chemical Asphyxiant
Diseases
Occupational diseases associated with exposure to this agent: