Agent Name
Dimethyltin dichloride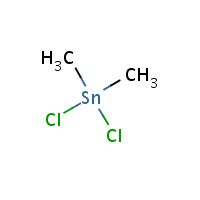 Synonyms
Cotin 210; Dichlorid dimethylcinicity [Czech]; Dichlorodimethylstannane; Dichlorodimethyltin; Dimethyldichlorostannane; Dimethyldichlorotin; Dimethyltindichloride; Dimethylzinndichloride [German]; Stannane, dichlorodimethyl-; Tin, dimethyl-, dichloride; [ChemIDplus] DMTC; [Shepard's Catalog of Teratogenic Agents] DMTCI; [OECD: SIDS Dossier] UN3146
Category
Tin Compounds, Organic
Description
Produced as a solid or aqueous solution; [ECHA - Proposal for Harmonised Classification and Labelling] White crystalline solid; [Alfa Aesar MSDS]
Sources/Uses
Used for stabilizing PVC potable water piping, making abrasion resistant glass containers, and as a catalyst for curing electrocoated paints; [Shepard's Catalog of Teratogenic Agents] Used to make other organotin compounds and for glass coating; [OECD: SIDS Dossier]
Comments
Produced as a mixture with monomethyltin trichloride (CAS# 993-16-8); Teratogenicity observed in rats administered 20 mg/kg on days 7-17 of gestation; [Shepard's Catalog of Teratogenic Agents] Corrosive to rabbit skin; The nervous system is the target of toxicity in 90-day oral studies of rats, with neuropathological lesions observed in one study at doses as low as 25 ppm (1.6/2.2 mg/kg/day); One oral study of rats produced serious teratogenic effects not considered as related to maternal toxicity; Another study of rats demonstrated no teratogenicity; Possible developmental neurotoxicity observed in other studies of rats; [ECHA - Proposal for Harmonised Classification and Labelling] Reacts with water; Causes burns; Inhalation may cause corrosive injuries to upper respiratory tract and lungs; Toxic by ingestion, inhalation, and skin absorption; [Alfa Aesar MSDS] See "Trimethyltin chloride" and "Di-n-butyltin dichloride." See "Tin, organic compounds."
LC50 (rat) = 115 mg/m3/4hr
Explanatory Notes
The Guide in the Emergency Response Guidebook is for "Organotin compound, solid, n.o.s."
Hepatoxic (a) from occupational exposure (secondary effect) or (b) in animal studies or in humans after ingestion
Processes
Industrial Processes with risk of exposure: