Agent Name
Ferrous iodide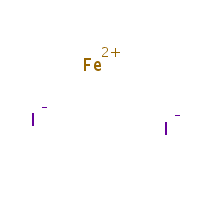 Synonyms
Iron diiodide; Iron iodide (FeI2); [ChemIDplus] Iron(II) iodide; [Sigma-Aldrich MSDS]
Category
Metals, Inorganic Compounds
Description
Red-violet or black solid; Highly hygroscopic and soluble in water; [Merck Index] Red or violet hygroscopic beads; Soluble in water; [Sigma-Aldrich MSDS]
Sources/Uses
Used as a catalyst in organic reactions; [Merck Index]
Comments
A skin and strong eye irritant; Harmful by ingestion, inhalation, and skin absorption; Targets the thyroid, liver, gastrointestinal tract, blood, and cardiovascular system; Possible reproductive toxicant and teratogen; [Sigma-Aldrich MSDS] See "Iron salts, soluble." See "Iodine" for the TLV of Iodides.
1 mg/m3, as Fe [0.01 ppm for inhalable fraction and vapor (iodides)]
Hepatoxic (a) from occupational exposure (secondary effect) or (b) in animal studies or in humans after ingestion
Other Information
No other related information on this agent was found.