Ferric nitrate nonahydrate
Agent Name
Ferric nitrate nonahydrate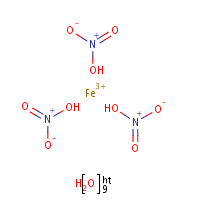 Synonyms
Ferric nitrate, nonahydrate; Iron(III) nitrate nonahydrate; Nitric acid, iron (3+) salt, nonahydrate; [ChemIDplus] UN1466
Category
Metals, Inorganic Compounds
Description
Pale violet to grayish-white solid; Somewhat deliquescent; Soluble in water; [Merck Index] Hygroscopic solid; [Sigma-Aldrich MSDS]
Sources/Uses
Used in dyeing (mordant), weighting silks, tanning, inhibiting corrosion, and chemical analysis; [Merck Index]
Comments
An oxidizer; A skin, eye, and respiratory tract irritant; May cause liver damage; [Merck Index] An oxidizer that may intensify fire; A skin and strong eye irritant; May induce methemoglobinemia; [Sigma-Aldrich MSDS] See "Ferric nitrate." See "NITRATES and NITRITES."
1 mg/m3, as Fe (soluble iron salts)
Explanatory Notes
The Guide in the Emergency Response Guidebook is for "Ferric nitrate."
MetHgb is secondary toxic effect
Hepatoxic (a) from occupational exposure (secondary effect) or (b) in animal studies or in humans after ingestion
Processes
Industrial Processes with risk of exposure: