Alternative Name
3-Ethoxyaniline
Major Category
Nitrogen Compounds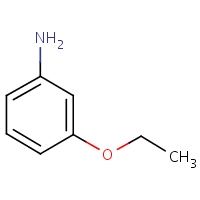 Synonyms
3-Ethoxyaniline; 3-Ethoxybenzenamine; m-Ethoxyaniline; Benzenamine, 3-ethoxy-; [ChemIDplus] 3-Aminoethoxybenzene; m-Aminoethoxybenzene; m-Ethoxyphenylamine; meta-Ethoxyaniline; meta-Phenetidine; [CAMEO] UN2311
Category
Amines, Aromatic
Description
Dark red liquid; [CAMEO] Clear light brown viscous liquid; [Sigma-Aldrich MSDS]
Comments
May cause cyanosis, hypothermia, drowsiness, and nephritis; [NTP] May cause irritation; May induce methemoglobinemia; Toxic by ingestion, inhalation, and skin absorption; [Sigma-Aldrich MSDS] See "p-Phenetidine."
Explanatory Notes
The Guide in the Emergency Response Guidebook is for "Phenetidines."
MetHgb is secondary toxic effect
Other Information
No other related information on this agent was found.