Major Category
Nitrogen Compounds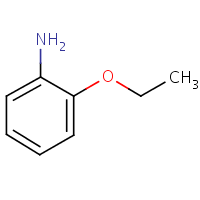 Synonyms
1-Amino-2-ethoxybenzene; 2-Aminophenetole; 2-Ethoxyaniline; 2-Ethoxybenzenamine; 2-Ethoxyphenylamine; o-Aminophenetole; o-Ethoxyaniline; Benzenamine, 2-ethoxy-; [ChemIDplus] 2-Aminoethoxybenzene; o-Aminophenol, ethyl ester; [CAMEO] UN2311
Category
Amines, Aromatic
Description
Oily liquid; Rapidly turned brown by light and air; [Merck Index] Reddish-brown oily liquid; [CAMEO] Clear dark red liquid; [Sigma-Aldrich MSDS]
Sources/Uses
Used to make dyes; [Merck Index] Used to make fine chemicals; [ExPub: ECHA REACH Registrations]
Comments
Toxic (vapor is also hazardous); Can be absorbed through skin; [Merck Index] Liquid or vapor may cause skin, eye, and mucous membrane irritation; Other symptoms may include cyanosis, headache, drowsiness, vomiting, alimentary tract irritation, and nephritis; [NTP] May induce methemoglobinemia; Harmful by ingestion; Toxic by inhalation and skin absorption; [Sigma-Aldrich MSDS] See "p-Phenetidine."
Explanatory Notes
The Guide in the Emergency Response Guidebook is for "Phenetidines."
high ambient temp required
MetHgb is secondary toxic effect
Other Information
No other related information on this agent was found.