Major Category
Other Classes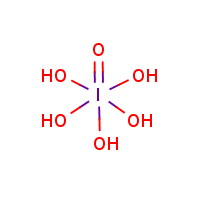 Synonyms
Orthoperiodic acid; [ChemIDplus] Iodic acid (H5IO6); [RTECS] UN3085
Category
Halogens, Inorganic Compounds
Description
Hygroscopic solid; [Merck Index] White odorless crystals; Hygroscopic; [Alfa Aesar MSDS]
Sources/Uses
Used in organic synthesis, as an oxidizer, and for the determination of manganese; [Merck Index]
Comments
A strong oxidizer; [ChemIDplus] An oxidizer that may cause fire on contact with combustible materials; Causes burns; [Alfa Aesar MSDS] See "Sodium paraperiodate." See "Metaperiodic acid."
Explanatory Notes
The Guide in the Emergency Response Guidebook is for "Oxidizing solid, corrosive, n.o.s."
Other Information
No other related information on this agent was found.