Agent Name
Phenyl dichlorophosphate
Major Category
Other Classes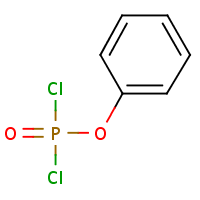 Synonyms
Dichlorophenoxyphosphine oxide; Phenoxydichlorophosphine oxide; Phenoxyphosphoryl dichloride; Phenyl phosphorodichloridate; Phenyl phosphorodichlorodate; Phenylphosphoric dichloride; Phosphoroyl dichloride phenyl ester; Phosphorodichloridic acid, phenyl ester; [ChemIDplus] Phosphorodichloridic acid phenyl ester; PCDP; [Merck Index] Monophenyl dichlorophosphate; [CAMEO] Phenylphosphorodichloridate; [Alfa Aesar MSDS] UN2922
Category
Organophosphates, Other
Description
Liquid; [Merck Index] Colorless liquid; [Alfa Aesar MSDS]
Sources/Uses
"Used in studies of decarbamylation of carbamylated acetylcholinesterase." [ChemIDplus] Used in organic syntheses; [Merck Index]
Comments
May cause severe skin, eye, and mucous membrane irritation; [CAMEO] Reacts violently with water; Causes burns; Inhalation may cause corrosive injuries to upper respiratory tract and lungs; Toxic by ingestion; Highly toxic by skin absorption; Dermal LD50 (guinea pig) = 14-400 mg/kg; [Alfa Aesar MSDS] See "Dimethyl phosphorochloridothioate," "Diethylthiophosphoryl chloride," and "Diethyl chlorophosphate."
Explanatory Notes
The Guide in the Emergency Response Guidebook is for "Corrosive liquid, toxic, n.o.s."
Other Information
No other related information on this agent was found.