Agent Name
Phenylmagnesium bromide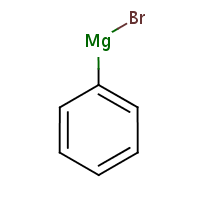 Synonyms
Bromophenylmagnesium; Magnesium, bromophenyl-; [ChemIDplus] UN3399
Category
Metals, Organic Compounds
Description
3 molar (76%) solution in diethyl ether: Yellow to brown liquid; [Alfa Aesar MSDS]
Comments
3 molar solution in diethyl ether (CAS# 60-29-7): Reacts violently with water evolving flammable gases; May form explosive peroxides; Causes burns; [Alfa Aesar MSDS] See "Methyl magnesium bromide," "Cyclohexylmagnesium chloride," "Phenylmagnesium chloride," and "Ethyl magnesium bromide."
Explanatory Notes
The Guide in the Emergency Response Guidebook is for "Organometallic substance, liquid, water-reactive, flammable."
Other Information
No other related information on this agent was found.