Agent Name
Phosphoric acid-d3
Major Category
Toxic Gases & Vapors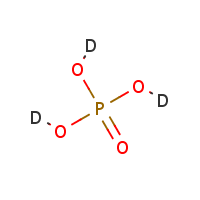 Synonyms
(3H)Phosphoric acid; [ChemIDplus] UN1805
Category
Acids, Inorganic
Description
85% Solution in D2-O: Colorless viscous liquid; [Sigma-Aldrich MSDS]
Comments
85% Solution in D2-O: Causes burns; Inhalation may cause corrosive injuries to upper respiratory tract and lungs; Targets the liver, bone marrow, and blood; [Sigma-Aldrich MSDS] See "Phosphoric acid."
Explanatory Notes
The Guide in the Emergency Response Guidebook is for "Phosphoric acid, solution."
Other Information
No other related information on this agent was found.