Potassium tri-sec-butylborohydride
Agent Name
Potassium tri-sec-butylborohydride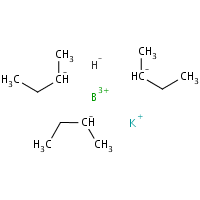 Synonyms
Borate(1-), hydrotris(1-methylpropyl)-, potassium (1:1), (T-4)-; Borate(1-), hydrotris(1-methylpropyl)-, potassium, (T-4)-; Potassium tri-sec-butylhydroborate; [ChemIDplus] K-Selectride; Potassium (T-4)-hydrotris(1-methylpropyl)borate(1-); [Merck Index] UN3399
Category
Organic Compounds, Metal Salts
Description
Solution in THF: Clear water-white to yellow viscous liquid; [Merck Index]
Sources/Uses
Used in organic synthesis (reducing agent); [Merck Index]
Comments
Made as a solution in tetrahydrofuran; Reacts with water; [Merck Index] 1.0 Molar solution in tetrahydrofuran: Reacts violently with water evolving extremely flammable gases; May form explosive peroxides; Causes burns; Inhalation may cause corrosive injuries to upper respiratory tract and lungs; [Sigma-Aldrich MSDS] See "Tetrahydrofuran" and "Potassium borohydride."
Explanatory Notes
The Guide in the Emergency Response Guidebook is for "Organometallic substance, liquid, water-reactive, flammable."
Other Information
No other related information on this agent was found.