Praseodymium(III) nitrate hexahydrate
Agent Name
Praseodymium(III) nitrate hexahydrate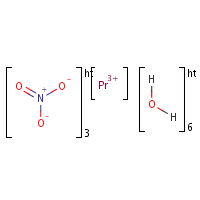 Synonyms
Nitric acid, praseodymium(3+) salt, hexahydrate; Praseodymium(III) nitrate, hexahydrate (1:3:6); [ChemIDplus] UN1477
Category
Rare Earth Metals
Description
Light green hygroscopic crystals; [Sigma-Aldrich MSDS]
Comments
A skin and strong eye irritant; An oxidizer that may intensify fire; [Sigma-Aldrich MSDS] See "NITRATES and NITRiTES." See "RARE EARTH METALS" and the linked occupational diseases.
Explanatory Notes
The Guide in the Emergency Response Guidebook is for "Nitrates, inorganic, n.o.s."
Other Information
No other related information on this agent was found.