Alternative Name
Carbonyl chloride
Major Category
Toxic Gases & Vapors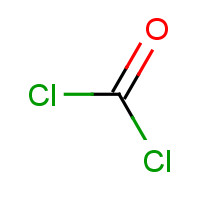 Synonyms
Carbon dichloride oxide; Carbon oxychloride; Carbone (oxychlorure de) [French]; Carbonic acid dichloride; Carbonic chloride; Carbonic dichloride; Carbonio (ossicloruro di) [Italian]; Carbonyl chloride; Carbonyl dichloride; Carbonylchlorid [German]; Chloroformyl chloride; Combat gas; Fosgeen [Dutch]; Fosgen [Polish]; Fosgene [Italian]; Koolstofoxychloride [Dutch]; Phosgen; Phosgen [German]; [ChemIDplus] UN1076
Description
Colorless gas with a suffocating odor like musty hay; Note: A fuming liquid below 47 degrees F. Shipped as a liquefied compressed gas; [NIOSH] Vapor density = 3.4 (heavier than air); [HSDB]
Sources/Uses
Used as an intermediate in the synthesis of many organic chemicals; also produced from thermal decomposition or photodecomposition of chlorinated hydrocarbons--the heat or UV light of welding can generate phosgene from degreasing solvents; [ACGIH]
Comments
Like ozone and nitrogen dioxide, phosgene is less soluble that other irritant inhalants and more likely to cause pulmonary edema without the signs of severe upper respiratory injury. [LaDou, p. 563-4] After a significant inhalation exposure, the onset of pulmonary edema may be delayed for up to 48 hours. [ATSDR Medical Management] A lachrymator; [CHEMINFO] See "Results from the US industry-wide phosgene surveillance: the Diller registry." [
PMID 21293301
] 2021 TLV Basis: pulmonary edema, emphysema; [ACGIH] Phosgene is fibrogenic to the lungs in the context of an acute inhalation exposure complicated by bronchiolitis obliterans.
Excerpts from Documentation for IDLHs
It has been calculated that based on acute toxicity data in humans, the lethal dose for a 30­minute exposure would be about 17 ppm [Diller 1978]. It has been stated that 25 ppm for 30 to 60 minutes is dangerous and brief exposure to 50 ppm may be rapidly fatal [Henderson and Haggard 1943]. It has also been stated that 5 ppm is probably lethal for a 30­minute exposure [Jacobs 1967].
Odor Threshold High
5.7 ppm
LC50 (cats) = 190mg/m3/15 min
Explanatory Notes
Odor threshold from AIHA;
No reports found; [TDR, p. 1030]
Diseases
Occupational diseases associated with exposure to this agent:
Processes
Industrial Processes with risk of exposure: