Agent Name
tert-Butyl chromate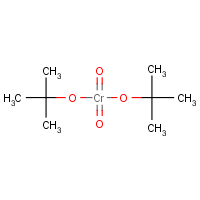 Synonyms
di-tert-Butyl ester of chromic acid; Bis (tert-butyl) chromate; t-Butyl chromate; [CHEMINFO]
Category
Metals, Organic Compounds
Description
Liquid; Note: Solidifies at 23-32 degrees F; [NIOSH]
Sources/Uses
Used to synthesize catalysts and other organic chemicals; also used as a curing agent for polyurethanes and polyolefins, e.g., polypropylene and polyethylene; [NIOSH Guidelines for Chemical Hazards]
Comments
Can cause acid-like burns; chronic exposure may result in kidney and liver damage; [NIOSH Guidelines for Chemical Hazards] May cause irritation of the skin, eyes, and respiratory tract; May have CNS effects, e.g., drowsiness; [CAMEO] Potential respiratory tract sensitizer; [CHEMINFO] See Chromium.
Excerpts from Documentation for IDLHs
Very little toxicological data are available concerning the effects produced by exposure to tert­butyl chromate. Because AIHA [1965] reported that the severity of the health hazard is low for acute exposure to chromic acid, by analogy it is assumed that the hazard is also low for acute exposure to tert­butyl chromate. Therefore, the chosen IDLH is based on an analogy with chromic acid and chromates, which has an IDLH of 30 mg/m3 (as CrO3).
Hepatoxic (a) from occupational exposure (secondary effect) or (b) in animal studies or in humans after ingestion
Diseases
Occupational diseases associated with exposure to this agent:
Processes
Industrial Processes with risk of exposure: