Agent Name
Di-sec-octyl phthalate
Major Category
Plastics & Rubber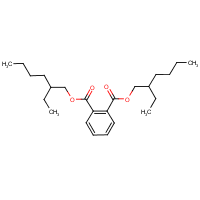 Synonyms
DEHP; Diethylhexyl phthalate; Di(2-ethylhexyl)phthalate; Bis(2-ethylhexyl) 1,2-benzenedicarboxylate; Bis(2-ethylhexyl) phthalate; Bis-(2-ethylhexyl)ester kyseliny ftalove [Czech]; Bisoflex 81; Bisoflex DOP; Celluflex DOP; Compound 889; DEHP; DOF [Russian plasticizer]; Di(2-ethylhexyl) orthophthalate; Di(2-ethylhexyl) phthalate; Di(2-ethylhexyl)orthophthalate; Di(2-ethylhexyl)phthalate; Diacizer DOP; Diethylhexyl phthalate; Dioctyl phthalate; Ergoplast FDO; Ergoplast FDO-S; Etalon; Etalon (plasticizer); Ethylhexyl phthalate; Eviplast 80; Eviplast 81; Fleximel; Flexol DOP; Flexol Plasticizer DOP; Good-rite GP 264; Hatcol DOP; Hercoflex 260; Jayflex DOP; Kodaflex DEHP; Kodaflex DOP; Mollan O; Monocizer DOP; Nuoplaz DOP; Octoil; PX-138; Palatinol AH; Pittsburgh PX-138; Plasthall DOP; Platinol AH; Platinol DOP; RC Plasticizer DOP; Reomol D 79P; Reomol DOP; Sansocizer DOP; Sansocizer R 8000; Sconamoll DOP; Sicol 150; Staflex DOP; Truflex DOP; Vestinol AH; Vinicizer 80; Witcizer 312; [ChemIDplus]
Category
Phthalate Esters
Description
Colorless, oily liquid with a slight odor; [NIOSH]
Sources/Uses
Used as a plasticizer; also used in pesticides (an inert ingredient), dielectric fluids, erasable inks, and vacuum pump oils; [ACGIH]
Comments
". . . Low toxicity by all routes of exposure. . ." [ACGIH] In inhalation studies of rats, no harmful effects were found. High-dose feeding studies of mice showed reversible sperm injury; also liver damage occurred. DEHP is not readily absorbed through the skin. [ATSDR ToxFAQs] In high-dose reproductive studies of rats and mice, DEHP and other phthalates cause testicular damage to males and increased fetal losses and malformations to pregnant females. [Frazier, p. 350-2] Occupational asthma in a PVC production worker was confirmed by PEF measurements. [Malo] Causes contact urticaria; [Kanerva, p. 219] See "PHTHALATE ESTERS."
2 mg/m3, inhalable fraction
Excerpts from Documentation for IDLHs
Basis for revised IDLH: No inhalation toxicity data are available on which to base an IDLH for di­sec octyl phthalate. Since the acute oral toxicity data in animals [Autian 1973; Shibko and Blumenthal 1973; Yagi et al. 1976] indicates that di­sec octyl phthalate has low acute toxicity, the revised IDLH for di­sec octyl phthalate is 5,000 mg/m3 based on being 1,000 times the OSHA PEL of 5 mg/m3 . . .
Explanatory Notes
Flash point = 405 deg F; See 2022 "Notice of Intended Changes" for TLV; [ACGIH TLVs and BEIs]
Anticipated human carcinogen
Diseases
Occupational diseases associated with exposure to this agent:
Processes
Industrial Processes with risk of exposure:
Activities
Activities with risk of exposure: